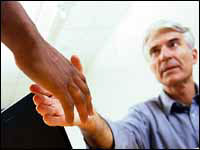 Although we're proud of our products, services, and technology, nothing matches the pride we have in our staff. You see, we learned long ago that we're really in the business of building relationships. For that reason, we put a premium on hiring only the most qualified individuals to serve on our team.
Every person on our staff is committed to providing excellent customer service and producing high-quality products and services. As you work with us in the future, we're confident that you'll find this to be true.
Alison Hash

Blake Sosebee

Hope Heard

Brian Martin

Brett B

Cody Sanders

Partners/Sister Companies

We are so fortunate to partner with Atlantic Signs for large scale exterior signs, Dynamic Edge for custom Water Jet Cutting, ACI for large format printing, 41 South for Hospital design, Lester & Associates for Wayfinding, JBP & Associates for Architectural Large Scale project coordination.